About Carolyn
From childhood, hand crafts have always been a part of my life. I do not remember many teddy bears growing up, but the few I did have made an impression on me. My husband and I have been married for 42 years and are proud parents of a daughter and grandparents of a grand-daughter and grand-son. We live in my native Colorado, with our three cats, Molly, Zoe and Indy.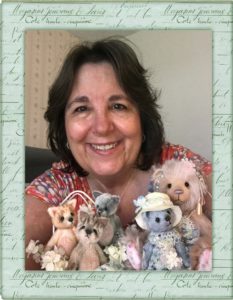 My journey as a teddy bear maker
Being completely self-taught, I have the freedom to design original patterns and accessories. Today things made by hand are rare. They represent a love of craftsmanship, inspired by a tradition of artistry, handed down over generations. Every stitch, every detail represents a passion and a love to create something one of a kind.
The attention to detail and having an eye for what is beautiful and unique makes a piece special. I love to add small details to each original piece to give it a "unique" character. My goal is to bring a tradition of quality of good taste to all the bears and animals I create.